SiFu James Sasitorn is the lead instructor at the Houston Wing Chun Kung Fu Academy, LLC.
SiFu Sasitorn began his martial arts training learning Yang style Tai Chi Chuan in 1998. His training quickly branched out to other Kung Fu styles, including Northern Shaolin, Choy Lee Fut, other variations of Tai Chi Chuan, Wing Chun, and also techniques such as iron palm.
During this time SiFu Sasitorn had the good fortune of befriending SiFu Dustan Carroll, who at the time was on a quest to learn the traditional Wing Chun Kung Fu system taught by SiFu Duncan Leung. This friendship eventually connected SiFu Sasitorn with SiFu Doc Savage, a 14 year student of SiFu Duncan Leung. The depth of SiFu Doc Savage's skill and understanding caused SiFu Sasitorn to question all his previous training. It was at this crossroads where SiFu Sasitorn decided to forgo the mysticism of his previous training and focus on Wing Chun Kung Fu and its applications for self-defense. SiFu Sasitorn continued training traditional Wing Chun Kung Fu as a private student in SiFu Savage's Florida school, eventually becoming a formal disciple.
SiFu Sasitorn is deeply grateful to SiFu Savage for his generosity and patience in imparting the Wing Chun system and art to him.
SiFu Sasitorn currently teaches traditional Wing Chun Kung Fu in Houston, Texas and the surrounding area. SiFu Sasitorn has the utmost respect for all martial arts and practitioners.
As a SiFu (師父, Teacher/Father) in Wing Chun Kung Fu, SiFu Sasitorn teaches his students techniques for self-defense and the underlying concepts and principles behind the techniques. This type of instruction provides students an immediate and practical skill they can use for self-defense, and a foundation for their long-term progress in the art. SiFu Sasitorn believes students must be engaged in their own learning, and adapts his lesson plans in response to students' performance, questions, and understanding. Instead of a simple right or wrong, SiFu Sasitorn wants students to develop an intuition for Wing Chun and be able to adapt and respond to changing situations.
SiFu Sasitorn cultivates a family environment in the classroom. Outside of class, he encourages and helps coordinate school outings, gatherings, and also community outreach.  SiFu Sasitorn and his assistants have taught safety and self-defense workshops, women's self-defense courses, and distance learning workshops.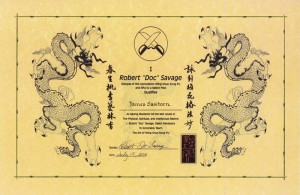 SiFu Sasitorn's Lineage: